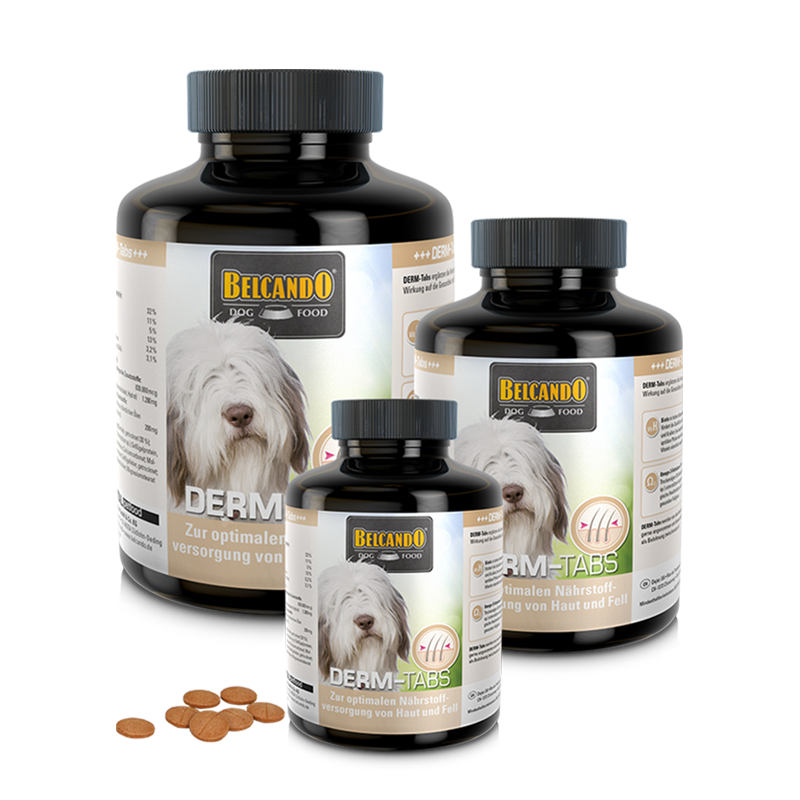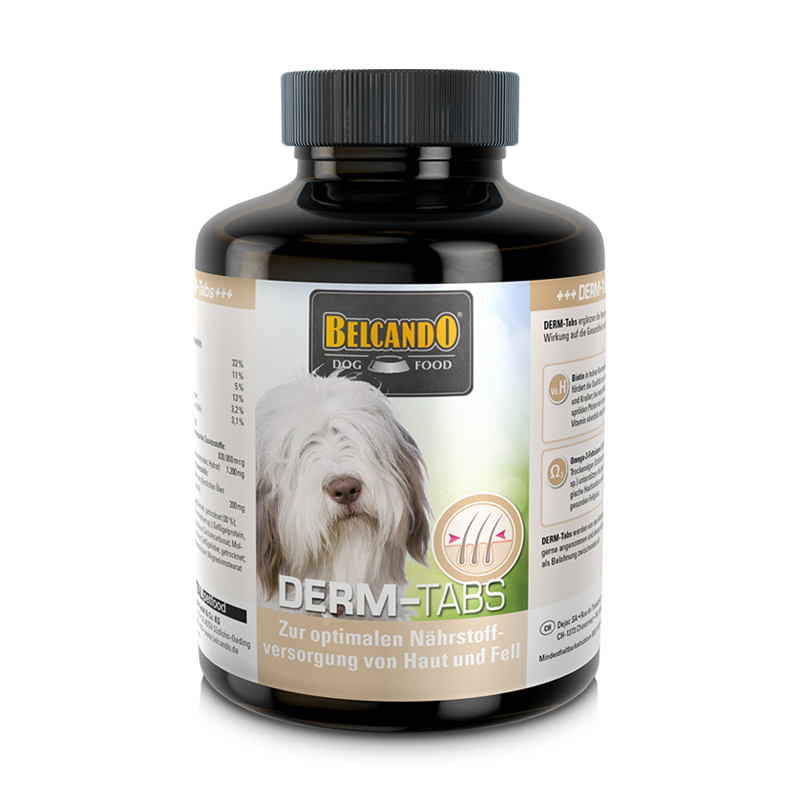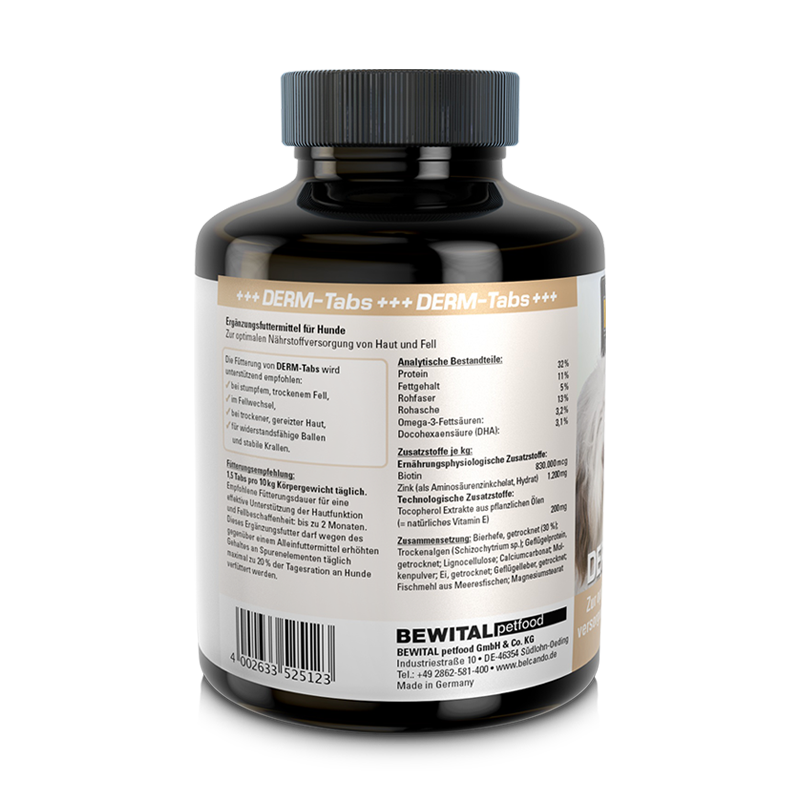 dull, dry fur
coarse hair, pigmentation disorders, shedding problems, hair loss
skin irritation, skin inflammations, skin allergy problems
sensitive or sore paws, pressure sores
Quality - Made in Germany
Dietary supplement for dogs
Supports skin function in pets with dermatitis and excessive shedding
BELCANDO® DERM-Tabs are an effective combination of various nutrients which complement each other effectively in their positive effect on the health and quality of skin and coat.
Indications:
dull, dry fur, coarse hair, hair loss
skin irritation, skin inflammations
skin allergy problems
sensitive or sore paws
Amino acid zinc chelate: (Supplement: 1,200 mg/kg corresponds to 4 mg organically bound zinc per 10 kg of the dog's weight when the recommended dose is given.): Zinc is a component in various enzyme systems. Symptoms of a deficiency include chapped, cracked skin (parakeratosis), pigmentation lightening and hair loss. For dogs with dermatitis, adding zinc to their diet has a positive influence on their skin and fur. The amino acid zinc chelate as an organic zinc compound has an absorption level 4 - 5 times higher than that of inorganic zinc sources.
Biotin: (Supplement: 830,000 mcg/kg corresponds to 3,000 mcg per 10 kg of the dog's weight when the recommended dose is given) is indispensable for the synthesis of keratin, the primary substance of epithelial cells in skin, hair and claws. Symptoms of biotin deficiency include premature greying, dull, dry fur, hair breakage, fur loss, dandruff, secondary inflammation with sloughing and itching. In healthy dogs, the biotin requirement is covered to a large extent by synthesis in the large intestine. In dogs with the aforementioned skin and fur problems, giving them supplements of high concentrations of biotin quickly resulted in improvement.
Omega-3 fatty acids Total content of omega-3 fatty acids: 3.2%; eicosapentaenoic acid (EPA): 0.1%; docosahexaenoic acid (DHA): 3.1% Supplements with a high content of omega-3 fatty acids naturally reduce the inflammatory response of the body. Supplementing your dog's diet in a targeted manner with omega-3 fatty acids is recommended to reduce inflammatory skin reactions and to promote a healthy, glossy coat.
Brewers' yeast (content: 30%) is a natural complex of various active substances shown to have a positive influence on the quality of your pet's skin and fur: vitamin B complex (brewers' yeast has the highest natural content of vitamin B!) ; organically bound trace elements such as iron, zinc, copper, manganese, selenium; pantothenic acid (important for skin function pigmentation)
Giving the correct dosage of DERM-Tabs is very easy. Simply feed 1 1/2 tablets per 10 kg of body weight over the course of the day as "treats". Treatment should be given for at least 4-6 weeks.
Dietary supplement for dogs
Composition
Brewers' yeast, dried (30 %); Dried algae (Schizochytrium sp.); Poultry protein, dried; Lignocellulose; Calcium carbonate; Whey powder; Egg, dried; Poultry liver, dried; Fish meal from seafish; Magnesium stearate
Analytical constituents
Protein 32 %; Fat content 11 %; Crude fibre 5 %; Crude ash 13 % omega-3 fatty acids: 3,2 %: Eicosapentaenoic acid (EPA): 0,1 % Docohexaenoic acid (DHA): 3,1 %
Additives per kg
Nutritional additives:
Biotin 830.000 mcg; zinc (as aminoacids zincchelate and zinchydrate) 1.200 mg
Technological additives:
Antioxidants: Tocopherol extracts from vegetable oils (= natural vitamin E) 200 mg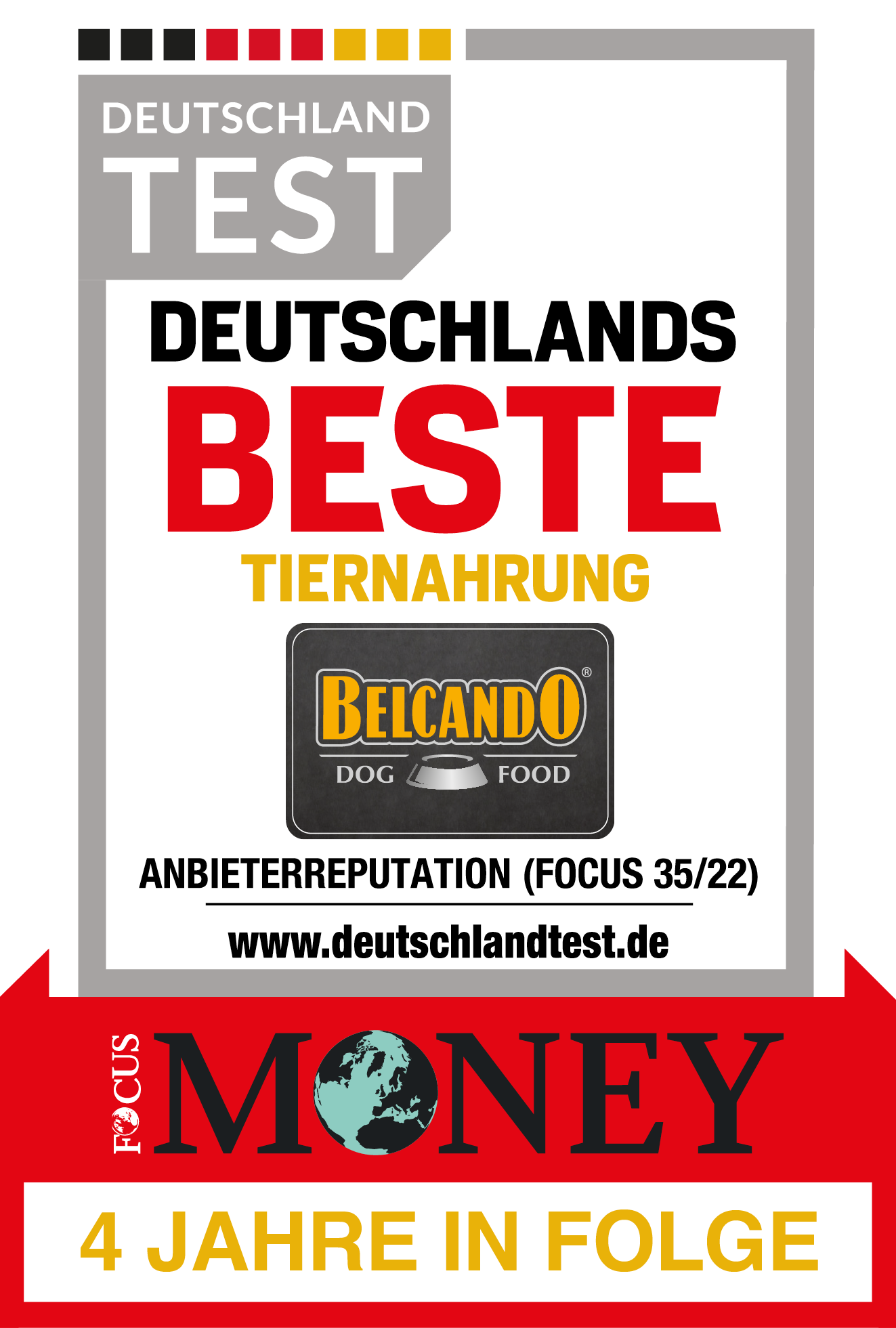 Our quality promise
Made in Germany

Best ingredients guaranteed

Outstanding flavour and digestive tolerance

Meat products exclusively from animals suitable for human consumption

With extra fresh meat
Gladly we can abstain from the use of these
Animal experiments

Soya protein

Artificial colourings, flavourings and preservatives

Wheat (except Adult Multi-Croc)