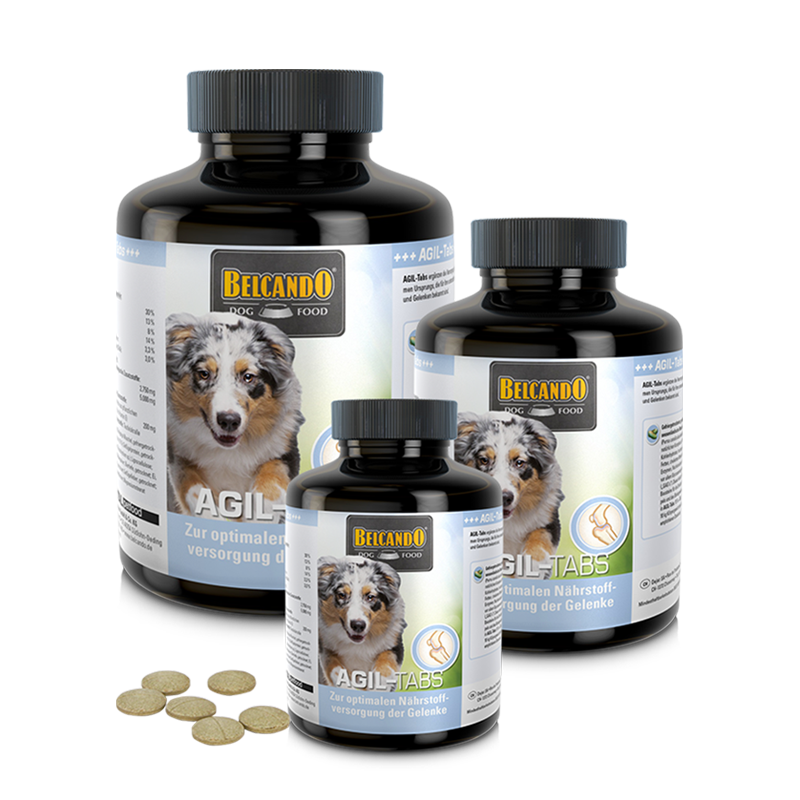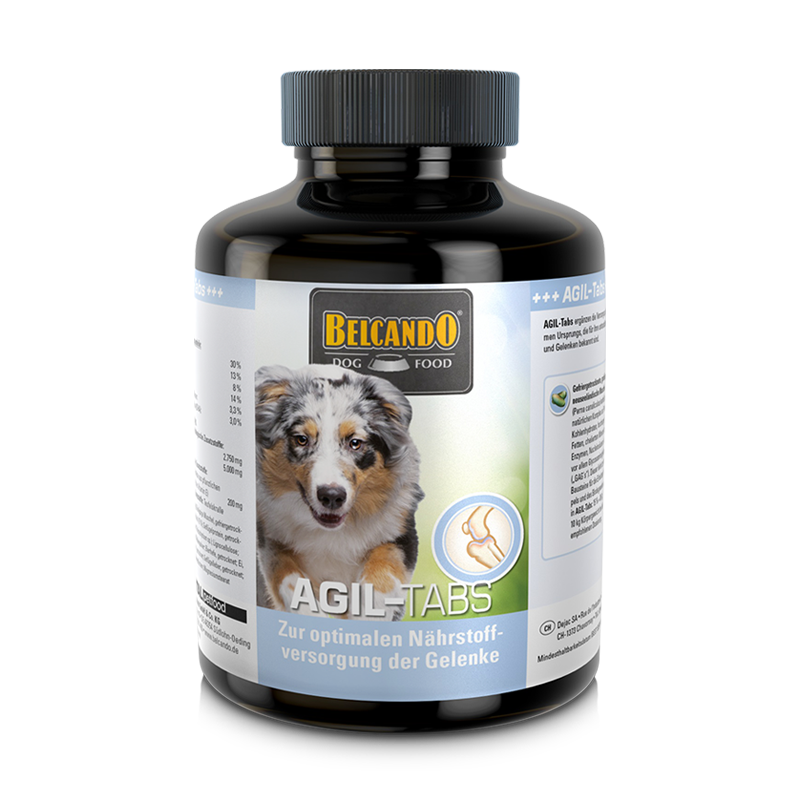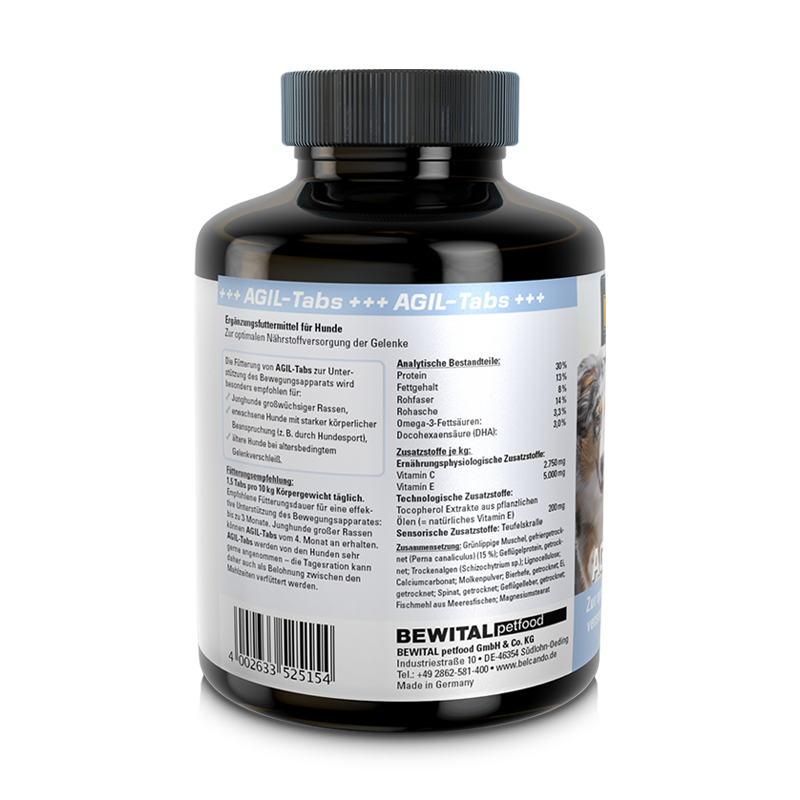 For growing dogs, particularly those of large breeds
For high stress on the joints of sporting and working dogs
For treatment of degenerative conditions of the muscular-skeletal system
For age-related joint problems (arthritis)
Quality - Made in Germany
Complementary feed for dogs f
or optimum joint nutrition
BELCANDO AGIL-Tabs supplement your dog's diet with nutrients from shellfish and plant-based raw material known for their supportive effect on the function of connective tissue, cartilage and joints.

AGIL-Tabs are particularly recommended for supporting the musculoskeletal system in:
young dogs from large breeds,
adult dogs exposed to strenuous exertion (e.g. sporting dogs),
older dogs with age-related wear and tear to their joints.


Freeze-dried green-lipped New Zealand mussels (Supplement: 15% pure mussel powder) Freeze-dried green-lipped mussels from New Zealand (Perna canaliculus) contain a natural complex of proteins, carbohydrates, polyunsaturated fats, chelated minerals, enzymes, nucleic acids and especially glycosaminoglycans (GAG). They supply primary components the maintenance of cartilage and connective tissue; content in AGIL-Tabs: 15% ≈ 0.6 g/10 kg of body weight in the recommended dosage.

Omega-3 fatty acids (DHA) from dried algae (Schizochytrium sp.) can help to regulate joint metabolism.
Vitamin E
(supplement: 5,000 I.U./kg) is crucial to the protection of the unsaturated fatty acids (omega-3 fatty acids) and the cartilage cells from oxidation by free radicals. They form during inflammatory processes in the joint at levels significantly higher than usual. Furthermore, vitamin E is important for the preservation and stability of the membranes, particularly in skeletal muscles. It supports the development of the muscle tissue to stabilise the joints.
Vitamin C
(supplement: 2,750 mg/kg) is crucial to the body's own collagen production (synthesis). Under stressful conditions (e.g. joint pain), your dog's body may not produce enough vitamin C. Supplementing his diet with vitamin C thus supports collagen formation and promotes joint and cartilage stability.
High-quality animal proteins
support protein metabolism, the optimal function of which is extremely important for muscle and cartilage metabolism.
Complementary feed for dogs
1.5 tablets per 10 kg of body weight daily.
Recommended feeding period for effective musculoskeletal support: up to 3 months.
Young dogs of large breeds may be given AGIL-Tabs from the age of 4 months.
Dogs love taking AGIL-Tabs, so their daily serving can also be given as treats between meals.
Complementary feed for dogs
Composition
Green-lipped mussels, freeze-dried (Perna canaliculus) (15 %); Poultry protein, dried; Algae, dried (Schizochytrium sp.); Lignocellulose; Calcium carbonate; Whey powder; Brewers' yeast, inactivated, dried; Egg, dried; Spinach, dried; Poultry liver, dried; Fish meal from sea fish; Magnesium stearate
Analytical constituents
Protein 30 %; Fat content 13 %; Crude fibre 8 %; Crude ash 14 %; Omega-3 fatty acids 3.3 %; Docohexaenoic acid (DHA) 3.0 %
Additives per kg
Nutritional additives:
Vitamin C 2,750 mg; Vitamin E 5,000 mg
Technological additives:
Antioxidants: Tocopherol extracts from vegetable oils (= natural vitamin E) 200 mg
Sensory additives:
Devil's claw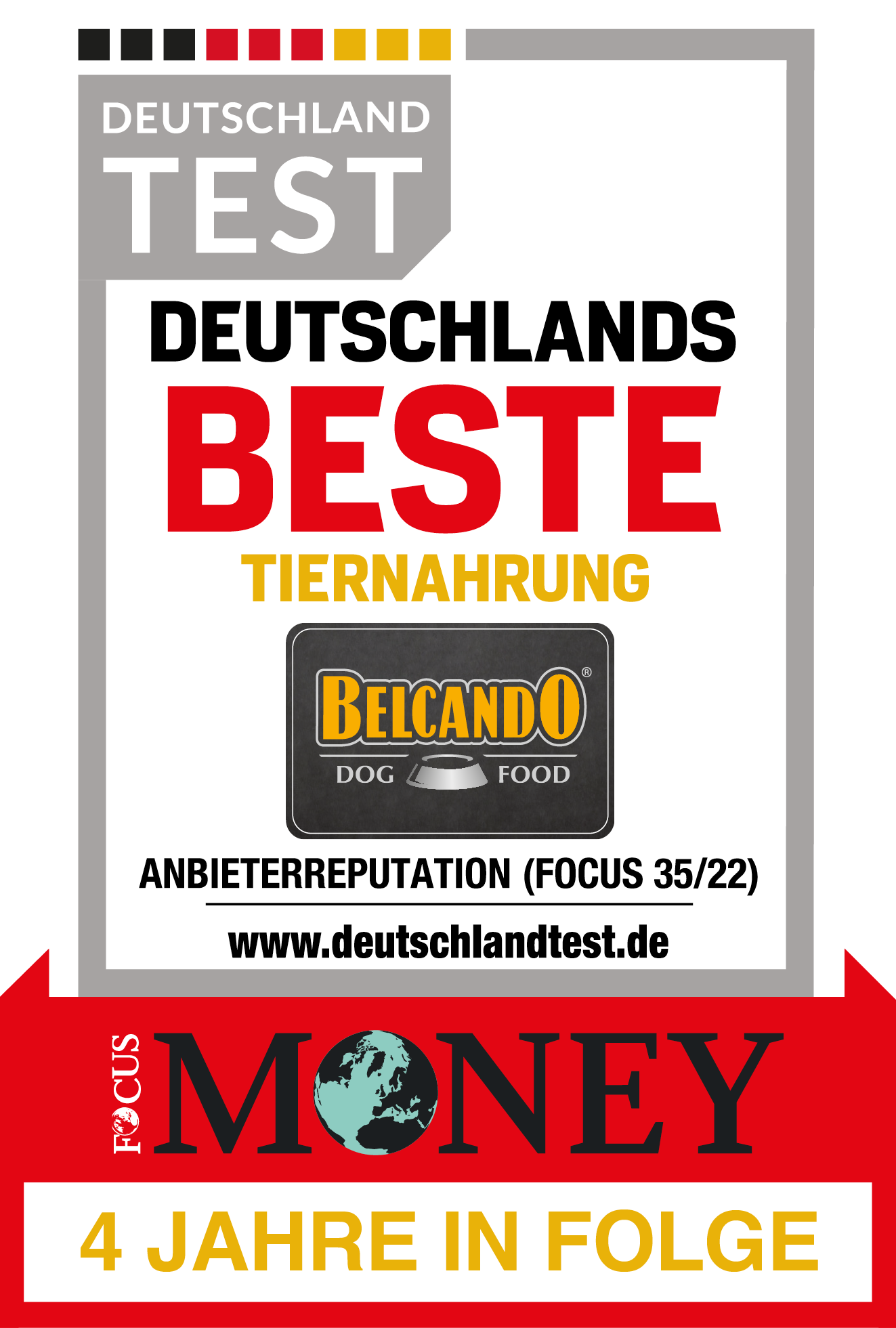 Our quality promise
Made in Germany

Best ingredients guaranteed

Outstanding flavour and digestive tolerance

Meat products exclusively from animals suitable for human consumption

With extra fresh meat
Gladly we can abstain from the use of these
Animal experiments

Soya protein

Artificial colourings, flavourings and preservatives

Wheat (except Adult Multi-Croc)