For growing dogs, particularly those of large breeds
For high stress on the joints of sporting and working dogs
For treatment of degenerative conditions of the muscular-skeletal system
For age-related joint problems (arthritis)
Quality - Made in Germany
Dietary supplement for dogs to support the joint metabolism in osteoarthritis
BELCANDO® AGIL-Tabs supplement your dog's diet with nutrients from shellfish and plant-based raw material known for their supportive effect on the function of connective tissue, cartilage and joints.
Indications:
For growing dogs, particularly those of large breeds
For high stress on the joints of sporting and working dogs
For treatment of degenerative conditions of the muscular-skeletal system
For age-related joint problems (arthritis)
Freeze-dried green-lipped New Zealand mussels
(Supplement: 15% pure mussel powder) The green-lipped mussel Perna canaliculus contains a natural active complex of glycosaminoglycans (GAGs), special omega-3 fatty acids
(1)
, amino acids
(2)
, trace elements
(3)
and natural antioxidants. In scientific studies on dogs, positive effects on arthritis symptoms were documented at a dosage of 0.45 g/10 kg body weight (Bierer & Bui, 2002). AGIL-Tabs contain to 0.6 g per 10 kg of the dog's weight when fed according to the recommended dosage. When Perna canaliculus is added to the diet, reductions in pain and stiffness can be observed. These positive effects cannot be attributed to a single, isolated substance; rather, the overall active complex in the green-lipped mussel is responsible for them.
1 (includes eicosatetraenoic acid, ETA 20: 4 ω3) 2 (includes glutamine for cartilage development) 3 (zinc, copper, manganese)
Omega-3 fatty acids
(Total content of omega-3 fatty acids: 3.3%; eicosapentaenoic acid (EPA): 0.2%; docohexaenoic acid (DHA): 3.0%: The high level of additional omega-3 fatty acids effectively narrows the usual ratio of omega-6 to omega-3 fatty acids in the diet. This naturally reduces the inflammatory response of the body.
Vitamin E
(supplement: 5,000 I.U./kg) is crucial to the protection of the unsaturated fatty acids (omega-3 fatty acids) and the cartilage cells from oxidation by free radicals. They form during inflammatory processes in the joint at levels significantly higher than usual. Furthermore, vitamin E is important for the preservation and stability of the membranes, particularly in skeletal muscles. It supports the development of the muscle tissue to stabilise the joints.
Vitamin C
(supplement: 2,750 mg/kg) is crucial to the body's own collagen production (synthesis). Under stressful conditions (e.g. joint pain), your dog's body may not produce enough vitamin C. Supplementing his diet with vitamin C thus supports collagen formation and promotes joint and cartilage stability.
High-quality animal proteins
support protein metabolism, the optimal function of which is extremely important for muscle and cartilage metabolism.
Giving the correct dosage of AGIL-Tabs is very easy. Simply feed 1 1/2 tablets per 10 kg of body weight over the course of the day as "treats".
1,5 Tabs pro 10 kg Körpergewicht täglich.
Empfohlene Fütterungsdauer für eine effektive Unterstützung des Bewegungsapparates: bis zu 3 Monate.
Junghunde großer Rassen können AGIL-Tabs vom 4. Monat an erhalten.
AGIL-Tabs werden von den Hunden sehr gerne angenommen – die Tagesration kann daher auch als Belohnung zwischen den Mahlzeiten verfüttert werden.
Dietary supplement for dogs to support the joint metabolism in osteoarthritis
Composition
green-lipped mussels, freeze-dried (Perna canaliculus) (15 %); Poultry protein, dried; Dried algae (Schizochytrium sp.); Lignocellulose; Calcium carbonate; Whey powder; Brewers' yeast, dried; Egg, dried; Spinach, dried; Poultry liver, dried; Fish meal from seafish; Magnesium stearate
Analytical constituents
Protein 30 %; Fat content 13 %; Crude fibre 8 %; Crude ash 14 %; omega-3 fatty acids: 3,3 %; Eicosapentaenoic acid (EPA): 0,2 %; Docohexaenoic acid (DHA): 3,0 %
Additives per kg
Nutritional additives:
Vitamin C 2.750 mg; Vitamin E 5.000 mg
Technological additives:
Antioxidants: Tocopherol extracts from vegetable oils (= natural vitamin E) 200 mg
Sensory additives:
devil's claw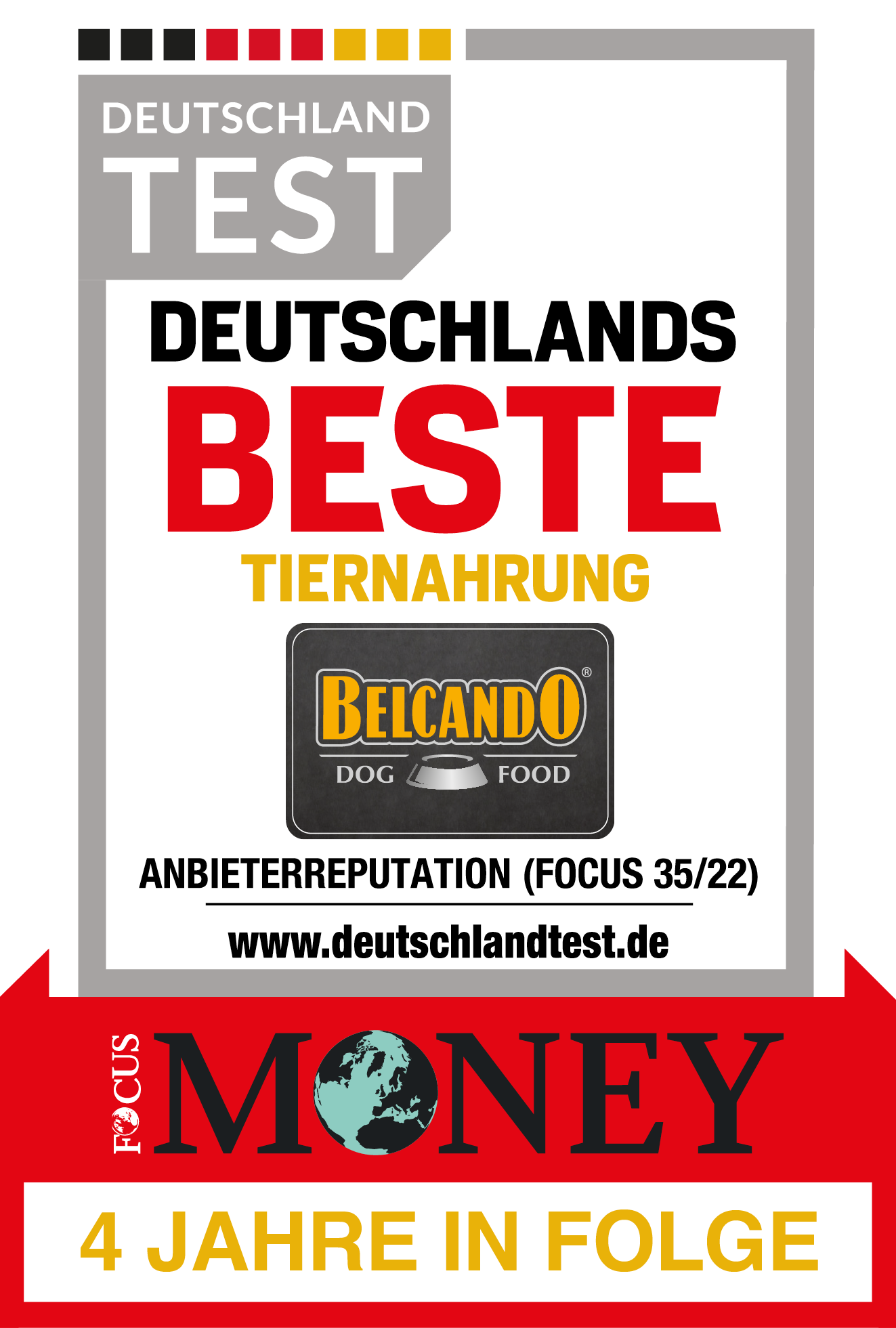 Unser Qualitätsversprechen
Hergestellt in Deutschland

Garantiert aus besten Zutaten

Beste Schmackhaftigkeit und Verträglichkeit

Fleischerzeugnisse nur aus lebensmitteltauglichen Tieren

Mit extra frischem Muskelfleisch
Darauf verzichten wir gerne
Tierversuche

Sojaeiweiß

Künstliche Farb-, Geschmacks- und Konservierungsstoffe

Weizen (außer Adult Multi-Croc)